Passaic Valley shoots the lights out against North Arlington
Monday, December 21, 2015
By Rich Barton
NJS.com Staff Writer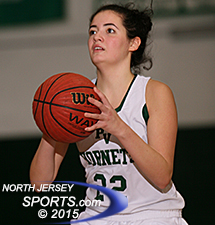 Passaic Valley shot 65-percent from behind the arc and Jalyssa Marques scored a team-high 18 points in a 67-27 win over North Arlington on Monday.
LITTLE FALLS – For the past four years leading up to this one, whenever the Passaic Valley girls basketball team needed to find instant offense it was more often than not that sharp shooting Deanna Duran was going to get the ball. With Duran, the all-time leading 3-point shooter in school history, having graduated the Hornets have had to adjust accordingly and now have to rely on all five players on the court to contribute on every possession both offensively and defensively to be successful.
Just two games into the season, the once modest goals the Hornets had going into the season have changed significantly. Even without Duran, this year's Passaic Valley squad has shown it can still light it up from beyond the 3-point arc. That was on full display on Monday when North Arlington came to Little Falls hoping to get its first win of the season. After a slow start, the Hornets heated up quickly and never cooled off.
Jalyssa Marquez had a game-high 18 points and backcourt mate Alyssa Sole added 17 as Passaic Valley shot a blistering 13-for-20 (65%) from 3-point range and rolled to a 67-27 win at Passaic Valley High School.
"We don't have size but we have speed and we have shooters," said Sole. "We're not slacking at all this year and we're pushing each other to do better and better every game. I'm proud of how well we've played so far."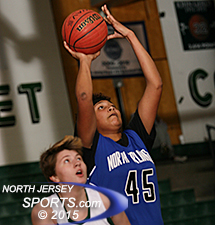 Philicity Belton had 8 points and 9 boards for North Arlington.
After suffering a tough three-point loss (48-45) to St. Mary's of Rutherford on opening night, North Arlington got off to a hot start with a turnaround jumper by 5-foot-11 center Philicity Belton and a 3-pointer by Danica Krawczyk to give the Vikings an 8-3 lead.
The North Arlington lead did not last long and it would be its last as Passaic Valley swiftly took over by speeding up the pace of the game. The Hornets embarked on a 19-2 run with a trio of 3-point shots in a 75-second span, two of them by Sole sandwiched around a Marquez 3 from the top of the key helped the Hornets take control after one quarter, 22-14.
It was the long-range shooting that got PV going but it was a smothering 1-2-2 full-court trap that never allowed the Vikings any room to breathe. The Hornets forced 11 second-quarter turnovers and held North Arlington without a point for over six minutes to stretch their lead out to 19 points by halftime, 36-17.
"Every single player is contributing and we all feed off of that," said Marquez. "Everyone hustles and we play much better defense than we were this time last year. We made a lot of 3s today and got a lot of turnovers, which helped give us a big lead."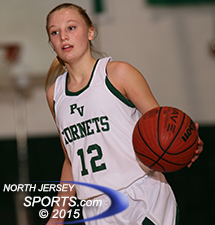 Cat Cole has helped Passaic Valley to a 2-0 start for the first time in five years.
Any hopes North Arlington had of a comeback were dashed in a hurry as Marquez, Sole, and Alexa Fitzgerald all nailed 3s early in the third quarter to put game out of reach. Belton led all players with eight rebounds to go with a team-high nine points for North Arlington (0-2).
This is the first time in five years that Passaic Valley has won its first two games of the season. With that goal now accomplished, the Hornets are setting their sights on finishing above .500 for the first time in over a decade and winning at least one game in both the Passaic County Tournament and the North 2, Group 3 state sectional tournament.
"We honestly didn't expect to start out 2-0, but we've been working hard and we're seeing the results," said Marquez. "We're getting more confident as a whole and we're getting more comfortable playing together every day. Our team is off to a great start and we want to keep it going."
CLICK HERE FOR MORE PHOTOS FROM THIS GAME. TO BUY A COLLECTOR'S PRINT OF THIS STORY, PLEASE VISIT4FeetGrafix.com.